Gateway
Our free of charge renewals platform designed to help increase your retention
Our renewals platform, Gateway, provides access to your live portfolio of customers along with targeted leads. It also provides ready made communications, materials and training to help you implement an effective renewals programme. Gateway is a sophisticated yet simple to use marketing tool and free of charge to supporting dealers. It provides:
Relevant and timely sales leads

Gateway delivers a portfolio of maturing agreements driven by an integrated contact strategy identified through data insight.

Data segmentation

Your portfolio of leads can be segmented in a number of ways so that you can create bespoke communications and offers based on, for example, vehicle, and finance product or customer demographics.

Customer Profiles

You will have access to an online customer profile which will include an integrated calculator to desk accurate offers and to create your own bespoke comparisons without leaving the gateway environment. This also includes pre-populated like for like payment parity examples on new vehicles.

Data Intelligence – Propensity

We have developed a statistical analysis model that identifies specific data attributes for those customers that have and haven't renewed. We provide an indicator of a customer's statistical likelihood or Propensity to renew on each customer profile helping you to be more efficient when prioritising customer contacts and designing campaigns.

Comprehensive support

Our team is equipped to provide comprehensive support, to maximise the conversion of Gateway data into sales. This includes system training, effective lead management, structuring of customer renewal offers, development of call strategies and scripts and creation of successful prospecting events.

Management Information

You will have access to an online dashboard as well a comprehensive suite of reports offering you MI on numerous KPI's around your customer retention, in-dealer renewal process and customer behaviours.
Gateway benefits at a glance
Free to use
Access your live customer database
Increase your call to appointment ratio
Increase showroom traffic and sales
Embed a culture of Trade Cycle Management
Increase retention (our top 25% of performers are retaining up to 50% of their existing finance customers)
Management information and training support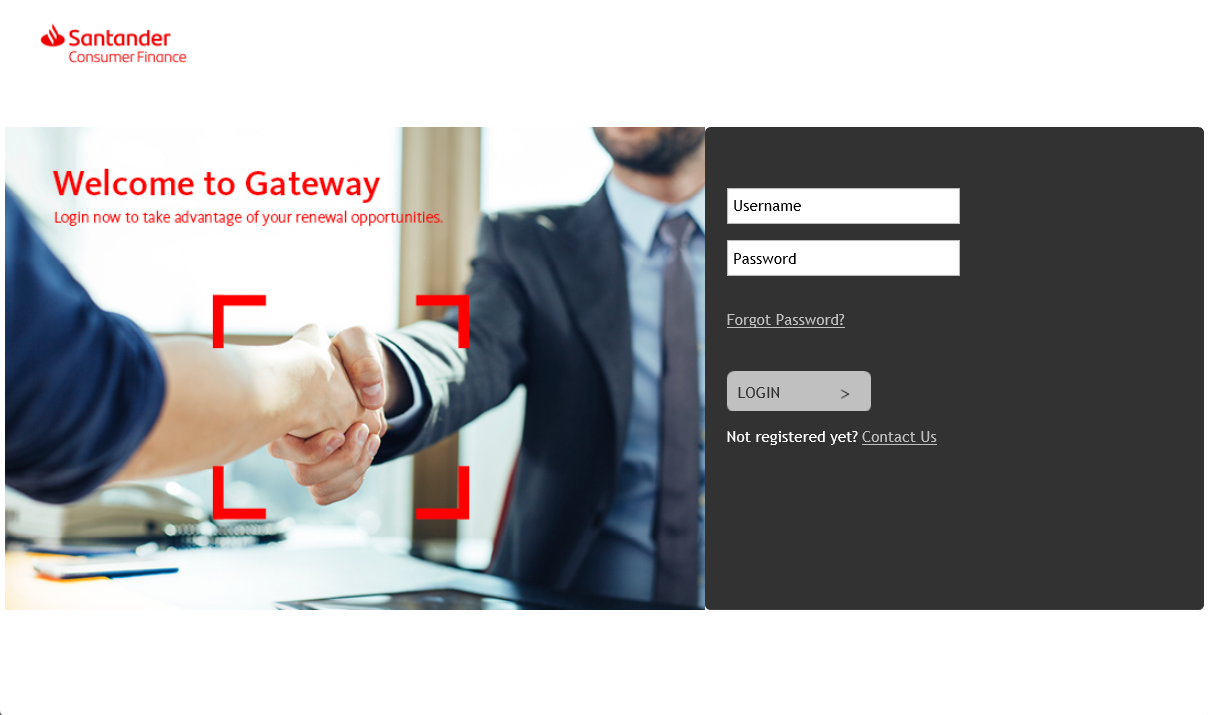 Power your renewals with Gateway from Santander Consumer Finance