As consumer purchasing behaviour continues to redefine the point of sale, we are pleased to offer eSign Plus to our retailer partners.
eSign Plus gives customers the flexibility to choose where and when they complete their finance agreement. Critically, a customer can now choose to digitally sign their finance documentation either remotely prior to the delivery of their vehicle, or on site at the dealership.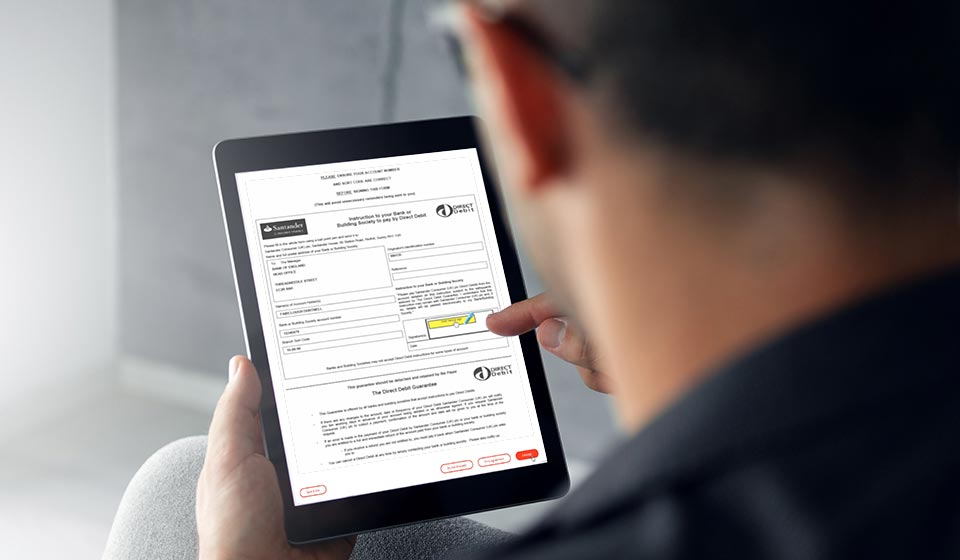 "It is important for Santander Consumer Finance to continually evolve its offering to keep pace with the everchanging, consumer driven market-place within which we operate. The eSign Plus solution has been specifically created to support our OEM and dealer communities, allowing them to fully transact with their customers remotely and, crucially, at their convenience."
Stewart Grant
Santander Consumer Finance Commercial Director
Send
After entering customer details, the form will allow you to initiate a secure email to the customer.
Sign
Customers will receive an email taking them to a secure signing environment.
Sold
You can now finalise the process and complete funding.
Feedback on remote eSign has been extremely positive, below is just a sample what some of our Dealer partners are saying about this new way of customer signing documentation.
Slide
"I would just like to compliment the team at Santander with the introduction of eSign.
This has been very beneficial to all parties involved, ensuring prompt payout to help cashflow with the client being able to sign from the comfort of their own home.
The introduction of eSign helps create a more cohesive and streamlined sales and finance process."
Paul Rigby Volvo Birmingham
Slide
"The new eSign product is a great new product providing an efficient and FCA compliant sign up process for both us and our customers. With so many collections taking place on a Saturday, the showroom can be busy, so having customers sign up from home makes for less congestion in the showroom and a super quick handover process. It also allows us to offer finance solutions on our distance sales which in these changing times is a great addition to our online offering."

Are you a motor dealer who would like to work with us?